2021 from the perspective of SSLmarket and PF 2022
Jan 7, 2022 | Jindřich Zechmeister
This year has again been marked by the pandemic and various restrictions. However, this was not an obstacle for us to deliver trusted certificates and perfect services to our customers. Thanks to you, we grew in 2021 and ended the successful year with another award from DigiCert. We now have all the awards possible.
The first reissue of multi-year orders
Last year, we were the first in the market to come up with multi-year orders for TLS certificates, which allow you to order a certificate for up to 6 years and save money and time. It is still true that the maximum duration of the certificate is one year, but for a multi-year order, it always takes place one month before the expiration of the certificate and you receive a new certificate for the next year within the multi-year order.
This year was the first reissue of these multi-year orders from 2020. Initially, this automatic reissue had teething trouble but we managed to solve this with DigiCert and now everything works fine.
We are a DigiCert partner with the largest share of multi-year orders ever; and we are glad that you are using this multiple-year option!
Thanks to the Innovation award, we have already received all DigiCert awards
The award for innovation gave us the complete collection of awards. In November, we received the Innovation Award from DigiCert, recognizing our exceptional approach to innovation and the way we use DigiCert's PKI. This was the last prize we were missing in our collection; we now have all the DigiCert awards! This confirms our competence in all respects and you, our customers, are assured of the best services on the market. More information about this success can be found in the news SSLmarket is number one in every respect.
SSLmarket and customer administration improvements
Throughout the year, we have been working to improve the backend and user portal to offer you as many features as possible and to your satisfaction. We immediately implement all the new features and innovations that DigiCert brings.
A shortlist of the major improvements this year has brought:
The availability of APIs and 2FAs for signing may not surprise you, as these are common features in our industry. However, a calendar containing all the certificate-related events in your account is unique to us, and you will not find it anywhere else. You can put all important information in the calendar on your phone, PC, or Outlook and you will not miss any expiration or reissue. Your user comfort is our priority!
A new desktop application
At the end of the year, we prepared a surprise for you in the form of the SSLmarket application for desktop. You can use it to easily manage the certificates in your account and import them into the Windows certificate store. It will help you, especially when obtaining and installing an S/MIME certificate, which you then just set up in Outlook or another email program.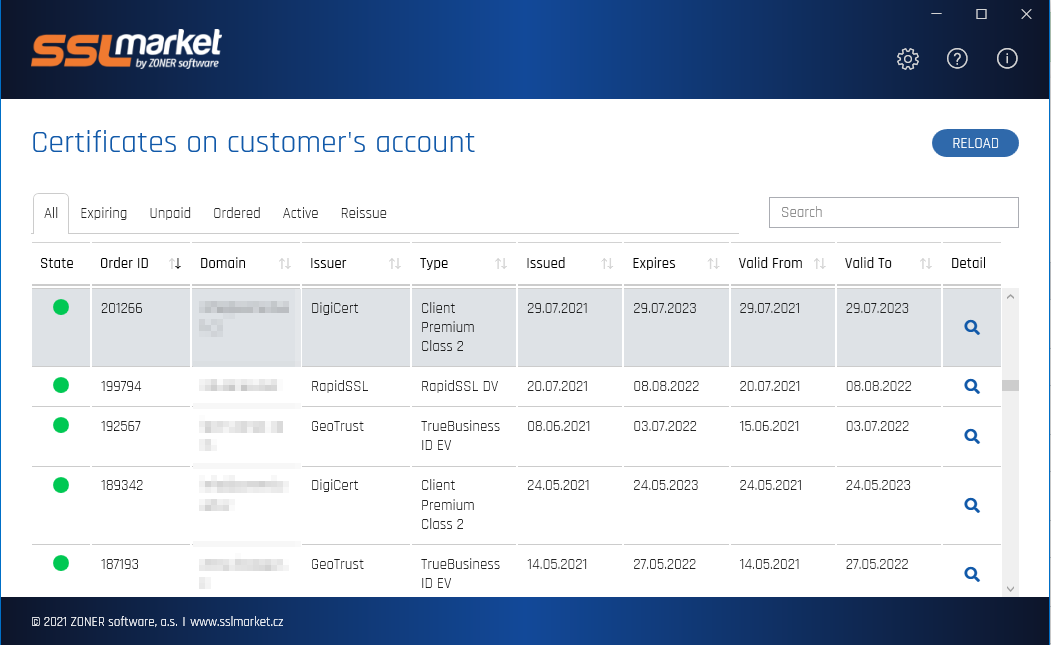 Tighter rules by the CA/B Forum
In the past year, we also had to respond to an unfortunate situation - further restrictions on certificates. The industry PKI regulator, CA/B Forum, has reduced the validity of OV verification for domains and entities to 13 months (as well as for EV). FTP file authentication, which we call the FILE method, has also become more complicated. Now it is necessary to independently verify all forms of domains that the certificate contains - including www. More in the article Change by FILE verification.
Next year, you can expect the maximum S/MIME certificate validity to be reduced to two years.
All the best in 2022
This was our summary of 2021. Thank you for your support this year and we look forward to further cooperation in 2022. We are already preparing a number of innovations and improvements for you to make obtaining and using certificates even easier.
The SSLmarket team wishes you a successful year 2022.
---