Personal Data Processing and GDPR Regulation
Personal Data Processing and GDPR Regulation
To process orders, we are forced to process the customer's personal data. Handling the data is regulated by our Privacy Policy. This article sums up SSLmarket personal data processing in accordance with the Regulation known as GDPR.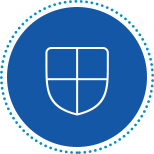 Personal data processing
Personal data is processed legally and in accordance with Act No. 101/2000 Coll. on the Protection of Personal Data and with the new EU General Data Protection Regulation 2016/679 (known as GDPR). We always have a legitimate cause to process the data. Processing is governed by the Processing Policy, see the last paragraph.
Data processing for marketing purposes (in our case sending a newsletter) or for other communication is based on our legitimate interest, which constitutes a lawful reason. You can revoke your consent for marketing purposes at any time in your customer administration.
Data Processing Agreement
Customers ordering SSL/TLS certificates for their customers are the data controllers of their customer's personal data. Saving the data onto our servers makes us the data processor.
The obligation to enter into the Data Processing Agreement can be fulfilled in customer administration, in the section devoted to personal data. The Data Processing Agreement is designed for subjects who do not process personal data for their own personal use. Personal data processing by a natural person for personal or home activities is not regulated by the Act on the Protection of Personal Data or by the GDPR Regulation and therefore the Data Processing Agreement is not needed.
Handing over personal data to data a controller outside the EU
DigiCert is the personal data controller outside the EU. To hand over personal data to a data controller outside the EU, we need your consent, which is part of the order. The possibility to hand over data to the DigiCert data controller is based on this controller´s participance in the Privacy Shield programme by the 25/5 2018.
Personal data processing policy
A document called Personal Data Processing Policy describing how your personal data is processed by ZONER a.s. and the scope and purpose of the processing required to issue an SSL/TLS certificate can be found in this document.
Please contact our customer support if you require assistance.