Keep track of certificate expirations comfortably in the calendar
Aug 13, 2021 | Jindřich Zechmeister
SSLmarket allows you to monitor the life cycle of certificates (especially their expiration) in the calendar that we have prepared for each customer account. Just map it on your smartphone or computer. Have you started using the calendar yet?
A revolutionary feature available to everyone
SSLmarket provides several options to track expiration. In addition to email and SMS notifications about certificate expiration (on our part), you can also monitor the certificate lifecycle directly in SSLmarket administration. The report can be downloaded as a spreadsheet or PDF, however, we have also developed a more comfortable option to monitor this agenda.
The completely individual calendar's revolutionary function for a given customer account is available only to our customers. You can map the calendar to any device that allows you to subscribe to an online calendar. You will see the information together, you will receive notifications on time and the events will, of course, be updated in the calendar. Therefore, if you renew the certificate, the change will be reflected in the calendar.
An ideal option for tracking multi-year orders
Multi-year orders replace multi-year certificates that can no longer be issued. You will get several consecutive one-year TLS certificates, while an order for several years will save you money and there will be no need to put in an order and pay for it every year.
At the right time, you will receive a follow-up certificate which needs to be replaced on the server for another year. And of course you can follow these events in our calendar as well! The calendar will notify you when you are to receive the new certificate in advance of the reissue date.
How to set up a calendar subscription
The first step is to get the URL you need to subscribe to applications on your PC or phone. You can find this link on your SSLmarket account under the Calendar link in the top menu. It will show you the URL of the shared calendar, which is just for you and the user account in question.
Example of a shared calendar URL: https://www.sslmarket.co.uk/calendar/feed/x/1axxxxxxxxxxxxxxxxxxxxxxxd4b62a8/c/10
You then paste this URL as a shared calendar subscription in a program. The most practical way is to always have the calendar with you, so we will look at the smartphone settings. Instructions for specific programs and devices can be found in the article Calendar with expirations of your certificates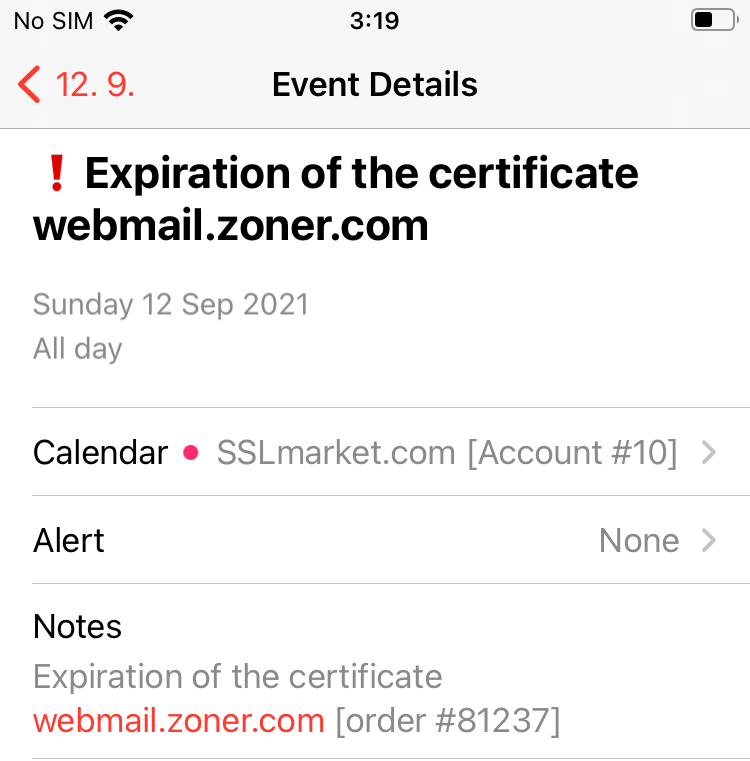 iPhone
iOS allows you to add a calendar natively, directly on your device; you will see this additional calendar in the calendar overview, where you can choose its color and other properties. To add a calendar URL, go to Settings -> Accounts -> Add Account -> Other -> Add Subscribed Calendar and enter the calendar URL in a single Server field. Then confirm the dialog and that's it (username and password are not entered).
There is no problem with calendar updates on the iPhone, and the information is loaded correctly by us.
Android
Android does not allow you to natively add a shared calendar to your system. You need to create a calendar subscription directly in the Google Calendar web interface or download an application that allows it.
You can find Google Calendar here, or click on it via Gmail. On the left, you can see Other calendars and a plus to add another. Select Add by URL and enter the URL that you obtained from SSLmarket.
Warning: Google Calendar has problems with updates because it is not clear how often it is updated and updates cannot be set.
---