Use SSLmarket app and save time. It will also set up Outlook for you
Aug 23, 2022 | Jindřich Zechmeister
The SSLmarket application will help you generate the CSR for the certificate and insert it into the order, but with its help you can also install the issued certificate. With the new version of the application, you can also set up an S/MIME certificate for signing in Outlook with one click! Don't hesitate to try our app today.
The application helps you manage certificates
The application will show you all the certificates in your SSLmarket account. You can create a pair of keys for them directly in the application, which will send the generated CSR to the order and import the issued certificate into the system storage. This is especially practical on the server because then you can easily assign the certificate to a service (for example, to a web using IIS).
Thanks to the mentioned functions, it is no longer necessary to generate key pairs, upload the CSR to our order or install certificates after they are issued. However, our ambitions did not end there and we went even further in terms of user comfort.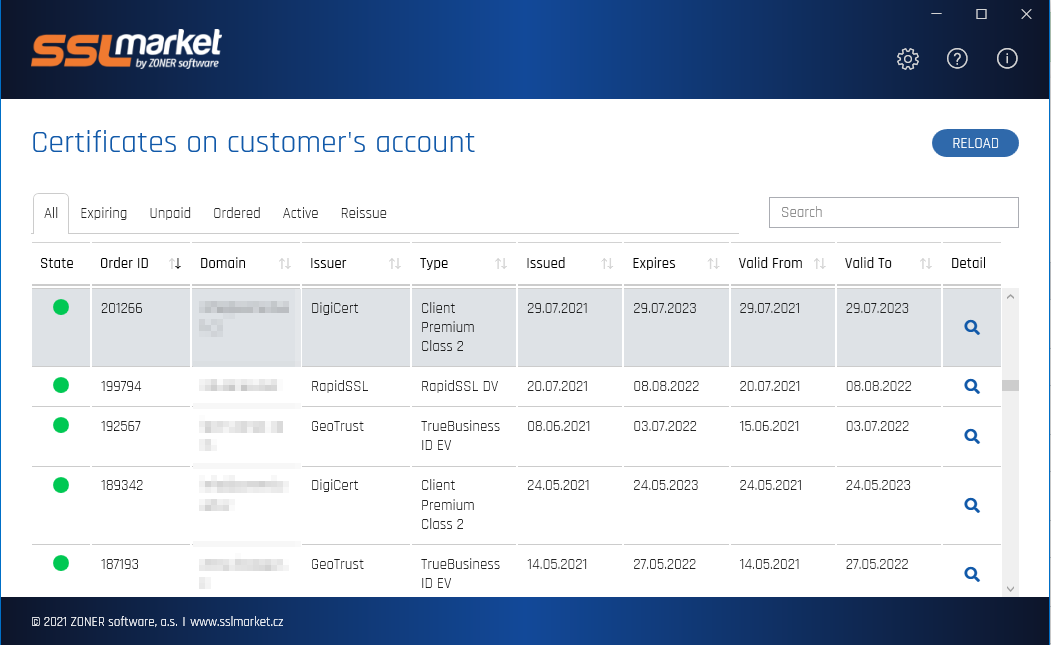 The new update brings S/MIME installation for Outlook
In version 1.1.0, we introduced a revolutionary new feature – the installation of an S/MIME certificate purchased from us into your Outlook. After issuing the S/MIME certificate, you can import it into your system with one click. Then the application dialog will ask if you want to set the certificate in Outlook as the default for signing emails. If you confirm the dialog, signing will be enabled and you won't have to worry about anything else.
This new feature will save you the tedious process of exporting the certificate to PFX, importing it to your computer, and setting it up in Outlook, where this option is difficult to find. You can find all these steps, which the application saves you, in the guide Import S/MIME certificate to clients and settings.
You can download the application from the link below. After it launches, it updates itself to the currently released version.
The SSLmarket application is available free of charge to all our customers.   
Download
In order to connect the application to the SSLmarket account, you need to enable API access on your customer account and generate an API key there. Then insert it into the Windows application and that's enough for the connection. You do not need a username or password.
The application is compatible with all versions of Outlook
The new S/MIME certificate setting function has been successfully tested in Outlook 2019, 2016, 2013 and 2010. It will certainly serve you well also in older versions, as the setting principle is still the same. Make setting up S/MIME certificates in Outlook easier by downloading our application.
We would like to extend the support for S/MIME certificate installation to include Mozilla Thunderbird, but unfortunately, this is not technically possible.
We innovate to bring you the best service
We are passionate about providing the best possible support to our customers. If you have any suggestions on how to simplify or improve our services, do not hesitate to let us know through our contacts.
---