You will receive the certificate seal directly in the order detail
(28. 5. 2021) We have simplified the way to get a certification authority seal (CA Seal). You will now receive the seal's HTML code directly in the certificate order detail. You can also enable or disable additional Smart Seal features, which is the prerogative of prestigious Secure Site certificates.
How to get a certification authority seal in customer administration
With each TLS certificate, it is possible to obtain and issue a CA seal on its website (the only exception is RapidSSL, which does not have a seal). In customer administration, you will find a new button for obtaining a seal in the Download section.
Revise the CA seal settings using the "CA Seal Settings" button. Here you choose the display options and size of the standard seal (Thawte, GeoTrust). The Smart Seal, which you get together with Secure Site certificates, offers more - you can turn on animation, hover, add your own company logo, etc. After confirming your choice, your preferences will be sent to DigiCert and stored there. Therefore, there is no need to change the seal code on your website when making changes.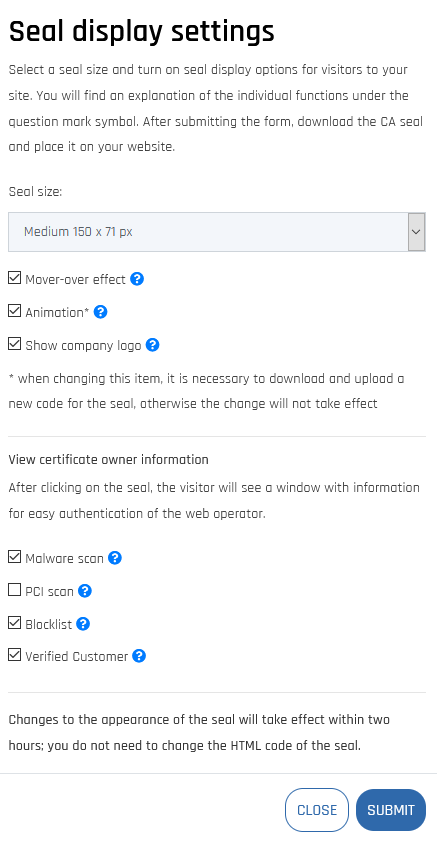 Once you have selected the size, confirm and close the dialogue and download the seal using the icon on the same button. It will show you the seal's script and HTML code, which you will then add to your site in the location you selected for the seal. Use both parts of the seal at the same time and paste them into your pages' code (you can also paste the script into the page header). If you are sending a seal to your webmaster, the option of downloading information in TXT format will certainly come in handy. You just need to forward it to a suitable person.
Changes to the seal design will take effect automatically and within two hours at the latest. You do not have to upload the seal again with each change; however, replace it when renewing the certificate.