DigiCert Verified Mark Certificate
DigiCert Verified Mark Certificate (VMC) Order
Verified Mark certificates are issued by the DigiCert certification authority. They are used to display the symbol of the sender on an email message and to better identify them. Thanks to this technology, the email's recipient will see your company logo even before they open the message itself. Thanks to VMC, we can increase the efficiency of our communication with customers and consistently protect them against phishing.
Recommended certificate use
The DigiCert Verified Mark Certificate is suitable for companies that send email communications to their customers. It is issued for domains used for sending emails.
Recipients will see the sender's logo next to the message and can trust that the message's origin is genuine. The VMC certificate is therefore suitable not only for marketing but also to protect customers against fraudulent and forged emails.
We recommend deploying VMC certificates especially to banks and financial institutions, but also to companies whose customers have become or may become the target of a phishing attack. The VMC certificate should be considered by every company that is serious about communicating with clients.
DigiCert VMC certificate price list
The Verified Mark Certificate supports up to 250 FQDN SANs (DNS names), with which you can extend the certificate for an additional fee.
One year certificate
$1,350.00
Price when purchased from CA: 1499 USD
You save money compared to buying from the CA
 
Extension
+ 1x domain (FQDN): $460.00
+ 1x Wildcard: cannot be used
Order
Multi-year order
When ordering a certificate for several years, you save more money. You can order a certificate for up to 6 years. Each year you will receive a consecutive one-year certificate.
You save time. One order and payment = less administration.
The longer the order validity, the greater the savings thanks to the decreasing annual price.
You will receive a consecutive one-year certificate automatically and on time, you will just need to exchange it.
FIND OUT MORE
Prices are without VAT.
Displaying logo in email client
Verified Mark certificates (VMC) allow companies to display their logo (brand) next to the "sender" field in email clients – the recipient sees it even before opening the message. To do this, VMCs use a technology known as Brand Indicators for Message Identification (BIMI).
The VMC certificate contains the sender's logo, which is protected by a trademark. Using a VMC certificate will bring you better message readability, but it is also an effective tool against phishing.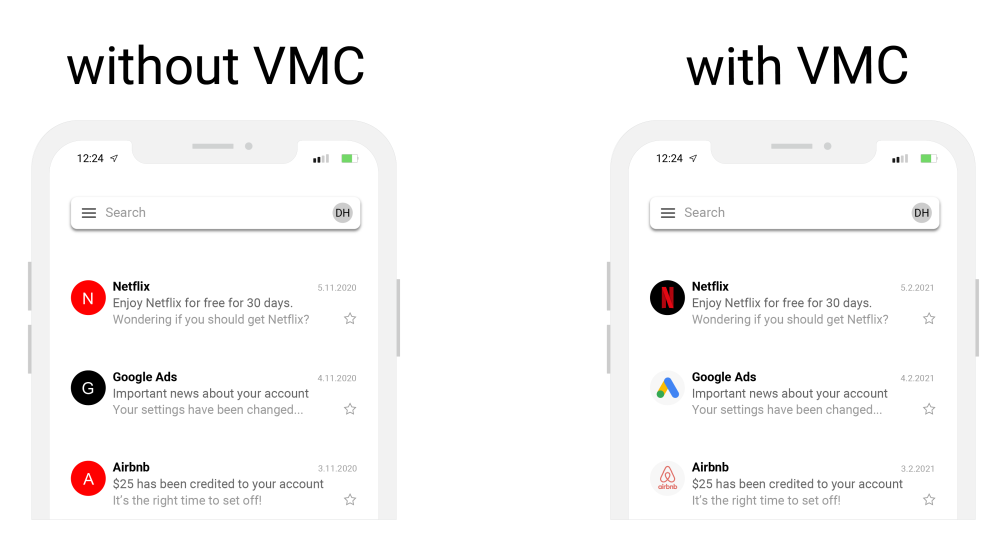 FAQ - frequently asked questions
In which email services will the VMC certificate work?
In order to display the logo from the VMC certificate on the sender's message, the service provider must support BIMI. You can always find the current list of providers supporting BIMI
in this overview
.
VMC (BIMI) support is gradually expanding and the VMC certificates are supported by the following service providers:
Apple (from autumn 2022)
Google - Gmail and Workspace
Fastmail
Yahoo!
Other large providers are preparing VMC support. Only Microsoft is silent and does not yet support VMC in its products.
What are the conditions of obtaining a VMC certificate?
To obtain a VMC certificate and use a specific logo in email services, you need to have a trademark for this graphic element. Furthermore, you must have DMARC enabled on the domain that sends the emails with the rule "p=quarantine" or "p=reject".
You can find more about the conditions of obtaining a VMC certificate in the article
What do I need to do to obtain a VMC certificate?
. The article provides tools to help you verify your VMC readiness.
What is the easiest way to get a trademark?
Obtaining a trademark is not an administratively simple process. We therefore recommend the
Patentoid
service to help you obtain a trademark. Once you have your trademark publicly registered, you can contact us and we will help you obtain a VMC certificate.